Certificate of Competence in Zero Trust (CCZT)
The industry's first authoritative Zero Trust training and certificate.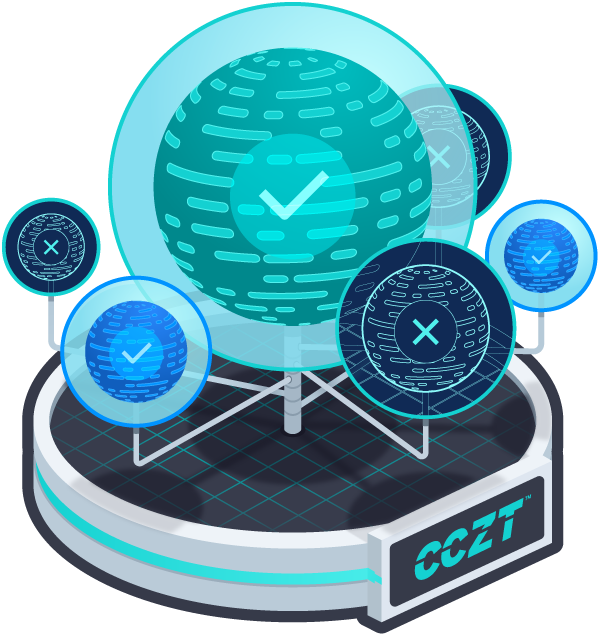 The Zero Trust model, which operates on the principle of 'never trust, always verify', is quickly rising as the favored strategy to secure the cloud. Recognizing that organizations are challenged to find skilled staff critical to the development and implementation of a Zero Trust philosophy, CSA created the Certificate of Competence in Zero Trust (CCZT) to provide mainstream best practices. Launched in 2023, the CCZT is based on the key concepts outlined in CSA's Zero Trust Training (ZTT).
The certificate provides an in-depth understanding of Zero Trust architecture, its components, and its functioning. Earning the CCZT is critical for security professionals seeking to advance their careers and for organizations who must maintain strong security postures. With Zero Trust established as the future of information security, a Zero Trust based approach will inevitably become a requirement for organizations and a required skill for professionals.
The CCZT includes foundational Zero Trust components released by CISA and NIST, innovative work in the Software Defined Perimeter by CSA Research, and guidance from renowned Zero Trust experts such as John Kindervag, Founder of the Zero Trust philosophy. This positions CSA as the authoritative source to deliver the industry's first benchmark for measuring Zero Trust skill sets.
Meeting the Rising Demand for Zero Trust
Ineffectiveness of Traditional Security: Traditional models are not effective against modern threats. Zero Trust assumes no user or device can be trusted.

Cloud Computing and Remote Work: Zero Trust helps organizations secure their cloud-based resources and remote workforce.
Demand Growth: As organizations and government agencies increasingly embrace Zero Trust, they seek training programs to educate their employees. According to Gartner, 60% of organizations are projected to adopt Zero Trust by 2025.
What are some benefits of the CCZT?
Build a competent workforce and further individual development by keeping up with and demonstrating zero trust excellence.
Gain an in-depth understanding of Zero Trust to implement robust security measures and create secure systems.
Keep up with innovation by tackling evolving cloud security challenges and vulnerabilities with Zero Trust.
Who should enroll?
Earn the CCZT as an Individual
Are you a cybersecurity professional looking to take your career to the next level?
Register now and gain a competitive edge in the industry
Government Agencies
Are you looking for training to meet federal mandates, enhance cybersecurity, and ensure compliance with security directives?
Contact us for additional guidance
Group CCZT Enrollment for Teams
Are you a manager responsible for maintaining your organization's security posture?
CISOs
Security Managers
Enterprise Architects
Risk Officers & Owners
Managers & Decision Makers
Compliance Officers & Managers
C-Suite
Security Engineers & Architects
System Engineers
Cybersecurity Analysts
Developers
Security Administrators
Government Agencies
Federal Partners
Topics Covered
The CCZT evaluates an individual's knowledge and expertise in various key areas related to Zero Trust security. Successfully passing the exam signifies proficiency in the following essential topics:
Zero Trust Foundational Concepts
Zero Trust Architecture
Software Defined Perimeter
NIST and CISA Best Practices
Zero Trust
Planning
Zero Trust Implementation
How to Prepare for the CCZT Exam
The CCZT is an open-book, online exam, completed in
90 minutes
with
60 multiple-choice questions
selected from the CCZT topics above. Purchasing
the exam costs $175
and provides you with two test attempts, which you will have two years to use. The
minimum passing score is 80%
. The CCZT exam is currently offered only in
English
.
Option 1
Study on Your Own
You can choose to study for the exam yourself using our free prep-kit. The kit includes a knowledge guide, an FAQ, and three authoritative sources.
You can also study on your own using the CCZT Study Guide, which will be included with the purchase of an exam token.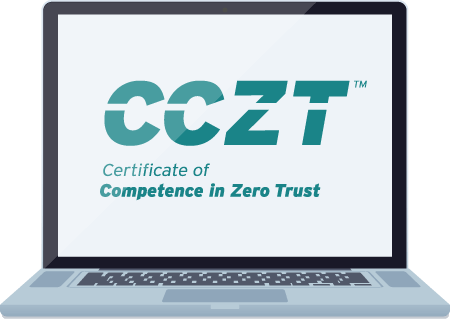 Option 2
Enroll in Training
The CCZT exam is based on CSA's Zero Trust Training (ZTT), which helps students to understand the core concepts of Zero Trust and implement the principles to move an organization towards a Zero Trust approach.
ZTT courses are online, self-paced, in English, and include study guides.
Learn more about Zero Trust Training
*If you are interested in instructor-led training, please contact us here.
Want to train multiple members of your team?
CCZT Inaugural Class
John Kindervag
Creator of Zero Trust, Chief Evangelist at Illumio
John Kindervag
Creator of Zero Trust, Chief Evangelist at Illumio
John Kindervag joined ON2IT in March of 2021 as Senior Vice President of Cybersecurity Strategy and ON2IT Global Fellow. Previously he was Field CTO at Palo Alto Networks and VicePresident and Principal AnalystatForrester Research. John is considered one of the world's foremost cybersecurity experts. He is best known for creating the revolutionary Zero TrustModel of Cybersecurity. John also serves as an executive advisor to Cloud Security A...
Cybersecurity succeeds when its experts share. CSA is extremely grateful to have the support and guidance of our vast community of distinguished Zero Trust experts, including the creator of Zero Trust himself, John Kindervag. In recognition of his contributions to the industry as the originator of this revolutionary cybersecurity strategy and in appreciation of his collaboration and partnership in the development of the CCZT, CSA is proud to issue the first Certificate of Competence in Zero Trust to Mr. Kindervag.
Receive a digital badge through Credly
CCZT holders can showcase their credentials through a CCZT digital badge. In partnership with Credly, the digital badge helps you gain recognition for earning your certificate by allowing you to easily display and share your achievement.
Your digital badge has a unique URL and can be used in your email signature, personal websites, social media sites and on electronic copies of resumes. It serves as a digital representation of your knowledge, skills, and credential achievements.
Complete these steps to claim your badge:
Login

to the CSA Exams using the email associated with your exam, and click on "Exam Results" found under Exams in the main menu.

Select

"Claim badge" next to the passed CCZT exam attempt.

Opt in

and grant permission to CSA to pass your certification record details to Credly.

View your badge!

If you do not have a Credly account already, set one up using the link sent to your email to view.
Acknowledgements
CSA extends its appreciation to the dedicated contributors who volunteered their time and expertise to develop the CCZT exam. Their commitment and passion have been instrumental in shaping this certificate. We are grateful for their support and are honored to have such individuals as leaders in our CSA community.
Help us Spread the Word
Join CSA's efforts to bring Zero Trust knowledge and best practices to the masses. Participation in CSA's Affiliate Marketing Program is a win-win; promoting the CCZT to your network not only helps build Zero Trust knowledge to improve cloud security postures, but it also provides you with an opportunity to earn a commission while positioning yourself at the forefront of cloud security best practices. Contact us at [email protected] to learn more.