Certificate of Cloud Security Knowledge (CCSK)
The standard of expertise for cloud security.
Certificate of Cloud Security Knowledge
As organizations migrate to the cloud, they need information security professionals who are cloud-savvy. The CCSK certificate is widely recognized as the standard of expertise for cloud security and gives you a cohesive and vendor-neutral understanding of how to secure data in the cloud. The CCSK credential is the foundation to prepare you to earn additional cloud credentials specific to certain vendors or job functions.
Earning the CCSK will provide you with the knowledge to effectively develop a holistic cloud security program relative to globally accepted standards. It covers key areas, including best practices for IAM, cloud incident response, application security, data encryption, SecaaS, securing emerging technologies, and more. If you want to learn more, you can read our guide to earning the CCSK.
What are the benefits of earning your CCSK?
Increase employment opportunities by filling the skills-gap for cloud-certified professionals.
Demonstrate your technical knowledge, skills, and abilities to effectively use controls tailored to the cloud.
Learn to establish a baseline of security best practices when dealing with a broad array of responsibilities, from cloud governance to configuring technical security controls.
Credentials the CCSK Complements
If you are looking to earn the CCAK, we recommend earning your CCSK first. The CCSK also complements the following credentials:
Who should earn their CCSK?
Cybersecurity analysts
Security Engineers
Security Architects
Enterprise Architects
Security Administrators
Compliance Managers
Security Consultants
Systems Engineers
CISOs
How to Prepare for the CCSK Exam
The CCSK is an open-book, online exam, completed in
90 minutes
with
60 multiple-choice questions
selected randomly from the CCSK question pool. Purchasing the exam costs $395 and provides you with two test attempts, which you will have 2 years to use. The
minimum passing score is 80%
. The CCSK exam is offered in
multiple languages
languages, including English, Spanish, and Japanese. There are several ways you can prepare for the exam.
Option 1
Study on Your Own
You can also study for the exam yourself using our free prep-kit. The kit includes sample questions, an outline of the domains and topics covered in the exam, as well as all of the documents you will be tested on.
Download Prep-Kit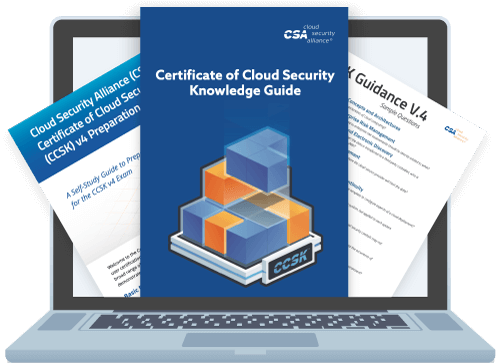 Option 2
Enroll in Training
There are two types of training for the CCSK, the regular class is lectures-only, but there is a lectures + labs version (CCSK Plus) as well where students practice bringing a fictional organization securely into the cloud.
Class Formats:
Courses are typically offered in English, but instructors are willing to provide other language options based on demand. The Online Self-Paced trainings are only offered in English.
View Upcoming Classes
Want to train multiple members of your team?
Study Materials
---
CSA Security Guidance v.4
ENISA Recommendations
CSA Cloud Controls Matrix
Topics Covered
DOMAIN 1
Cloud Computing Concepts and Architecture
DOMAIN 2
Governance and Enterprise Risk Management
DOMAIN 3
Legal Issues, Contracts, and Electronic Discovery
DOMAIN 4
Compliance and Audit Management
DOMAIN 5
Information Governance
DOMAIN 6
Management Plane and Business Continuity
DOMAIN 7
Infrastructure Security
DOMAIN 8
Virtualization and Containers
DOMAIN 9
Incident Response
DOMAIN 10
Application Security
DOMAIN 11
Data Security and Encryption
DOMAIN 12
Identity, Entitlement and Access Management
DOMAIN 13
Security as a Service
DOMAIN 14
Related Technologies
EXTRA DOMAIN
Cloud Controls Matrix
EXTRA DOMAIN
ENISA Recommendations
Industry Support
I recently passed the CSA Certificate of Cloud Security Knowledge and I found so much of the content directly valuable. I would recommend it to all IT security professionals. It provides a set of comprehensive and vendor neutral cloud computing principles that are invaluable across security roles and responsibilities. The CSA Security Guidance v4 document will be required reading for all my engineering talent in our organization going forward.
Cory Cowgill
CTO of Fusion Risk Management
With CCSK certification, professionals who have Cloud Computing responsibilities can demonstrate thorough Cloud security knowledge based on the CSA's catalogue of security best practices.
Patrick Harding
CTO, Ping Identity
As enterprises move toward cloud computing, they are desperately seeking guidance and education in this new domain. CSA is bridging this gap and the CCSK provides an important first step in establishing baseline knowledge for individuals tasked with building and managing applications to the cloud.
Michael Sutton
CISO, Zscaler
The CSA, in providing a set of goals through the CCSK, is challenging security practitioners to become the cloud thought-leaders we need today and tomorrow to ensure safe and secure cloud environments. In developing the CCSK, CSA is 'setting the bar' for security professionals and providing business executives a means to gauge the opinions and rhetoric associated with security in the cloud.
Jerry Archer
SVP and Chief Security Officer for Sallie Mae
The CCSK reflects both the operational knowledge of the CCM (Cloud Controls Matrix) as well as the strategic goals for the CSA. The CCM itself is a superset of many existing security control standards, which makes the CCSK all the more relevant to today's security environment.
John Checco
President Emeritus for the New York Metro InfraGard Members Alliance
The CCSK study materials were very upfront and clear in presenting what was needed to pass the exam. The Security Guidance V.4 was all encompassing and included a lot of materials, some of which wasn't tested on but I appreciate learning about regardless. Overall, I think the study material provided along with the guidance for how CSA breaks down the CCSK testing domains and objectives, are enough to pass the exam and gain a fundamental understanding of what is being tested.
Nabli Ali
Senior Associate with Schellman
CCSK digital badge now available through Credly
CCSK holders can showcase their credentials through a CCSK digital badge, now being provided in partnership with Credly, a leading digital credential service provider. A digital badge helps you gain recognition for earning your certificate by allowing you to easily display and share your achievement. Recruiters and employers will be able to quickly verify your competencies and skills.
Your digital badge has a unique URL and can be used in your email signature, personal websites, social media sites such as LinkedIn and Twitter, as well as on electronic copies of resumes. It serves as a digital representation of your knowledge, skills, and credential achievements.
Claim your CCSK digital badge now